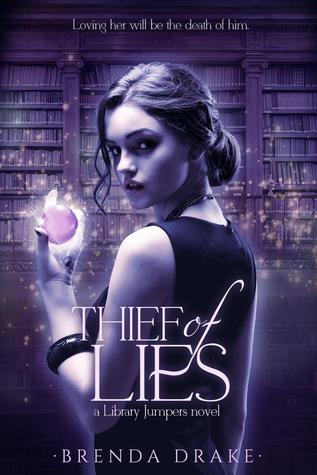 Library Jumpers #1
Brenda Drake
Publication Date: January 5. 2016
Genre: YA Urban Fantasy
Gia Kearns would rather fight with boys than kiss them. That is, until Arik, a leather clad hottie in the Boston Athenaeum, suddenly disappears. While examining the book of world libraries he abandoned, Gia unwittingly speaks the key that sucks her and her friends into a photograph and transports them into a Paris library, where Arik and his Sentinels—magical knights charged with protecting humans from the creatures traveling across the gateway books—rescue them from a demonic hound.




Jumping into some of the world's most beautiful libraries would be a dream come true for Gia, if she weren't busy resisting her heart or dodging an exiled wizard seeking revenge on both the Mystik and human worlds. Add a French flirt obsessed with Arik and a fling with a young wizard, and Gia must choose between her heart and her head, between Arik's world and her own, before both are destroyed.
Review copy received from the publisher thru NetGalley
When I first read the book description of Thief Lies, I thought that they were really jumping into books in the libraries to get them into a world in the books or into other libraries. Well, now that I did read it, they were travelling in a way into the books, not into the worlds within the books. The books and libraries acted like gateways. It was still cool.
Thief of Lies, I noticed, bears some similarities to City of Bones (written by Cassandra Clare).: (1) a seemingly normal girl was branded so as to be protected (2) from something her mother's running from. (3) Her mother was a Sentinel (a Shadowhunter in Clare's world), one of the talented while her daughter, with a unique heritage, is in a prophecy (4) of a world separate from humans, a world filled with the paranormal which was separated from the mundane.
That's it. Just a few similarities, really, that didn't subtract from the book.
I loved the adrenaline rush that the action in this book gave me. This happened then that happened. Action upon action. The motions and reactions on top of one another. However, there were times when things didn't flow smoothly. And there were times that the book could have ended there but it just went on. Maybe that was a good thing since I don't like cliffhangers that much.
I also would like to point out the familial connections between Jacalyn, Marietta and Phillip. Earlier, it then said that Marietta and Phillip were half-siblings through their shared mother; however, later, it said that Phillip and Jacalyn were not cousins since Phillip and Marietta shared the same father and not mother. Jacalyn and Marietta were cousins through their grandfather, Gian Bianchi. An irregularity or am I missing something?
I would love to read the sequel – there are a lot more questions that need answering and I need them. I just hope that the villain will be given more depth other than he was born with an evil soul and just evil for evil's sake.
Notes:
-I like Bastien more than Arik.