The
first one
was for the half of 2017, you book hoarders.
I couldn't just list all of the eagerly anticipated books in one go. I didn't even know about them until two months ago.
One thing I'm sure of:
I might not read them immediately
read: only read them after xx weeks/months
but they're going to look great on the bookshelf.
The Library of Fates by Aditi Khorana -

July 18

- I don't think I've ever read any Indian books aside from abridged editions of Mahabharata and Ramayana. Well, there was the Gemma Doyle trilogy with elements scattered throughout. The Library of Fates will be a first.
The Epic Crush of Genie Lo by Y. C. Lee -

August 8

- Is that a girl in a school uniform on the cover? It recalls to mind those anime with high school MCs who fight their enemies in their school uniforms. Plus! Chinese folklore. Equals WIN.
Forest of a Thousand Lanterns (Rise of the Empress #1) by Julie C. Dao -

October 10

- I've been hearing a lot of good things about this book from early readers.
Contemporary
A Semi-Definitive List of Worst Nightmares by Krystal Sutherland -

September 5

- It's about facing and overcoming your fears. Of which I am still learning what to do and how to do. Fears cannot be overcome in one go. It's constant work. Just give me big spray and some sturdy boots when confronting creepy crawlies.
You Bring the Distant Near by Mitali Merkins -

September 12

- There's a My Big Fat Greek Wedding vibe to this. I'm also greatly reminded of The Hundred Foot Journey and Fresh of the Boat. This is not my usual fare; but it sounds so interesting I have to give it a try.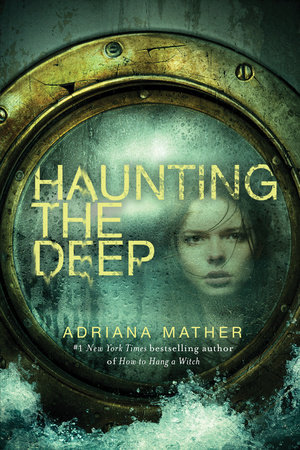 The Rattled Bones by S.M. Parker -

August 22

- A mystery + ghosts + haunted island + archaeology

(although, I don't think it has anything to do with the story just the main male character is an archaeology student and I'm a frustrated Lara Croft wannabe)

= thrilling read *cross fingers*
Haunting the Deep (How to a Hang a Witch #2) by Adriana Mather -

October 3

- Aside from the author being evil enough to let me love a character in the first book only for them to leave... How to Hang a Witch's excellent story weaving ensured that I would eagerly the next book.
Another Set of Fantasy
Because fantasy is my jam.
An Enchantment of Ravens by Margaret Rogerson -

September 26

- Have I ever told you that faeries are my favorite fantasy fodder.

(shouts from a distance: "Only about 167435 times!")

What can I say I love their politics, their otherworldliness, their seeming untouchability

(until the speshul snowflake arrives)

, and their everything.
The Last Namsara (Iskari #1) by Kristen Ciccarelli -

October 3

- Hmmm... there seems to be a lot of books coming out in October. Anyway, The Last Namsara is in the high/epic fantasy sub-genre. I don't know what to make of it but there are dragons in it.
The Glass Spare (The Glass Spare #1) by Lauren DeStefano - October 24 - A Graceling vibe with a touch of the gemstone version of the Midas touch. The MC is going to lead a revolution, isn't she?
Then, I'm going to go on a reading slump and just read fanfiction for days/weeks on end.