ARC Book Review: THE MERMAID'S MIRROR by L. K. Madigan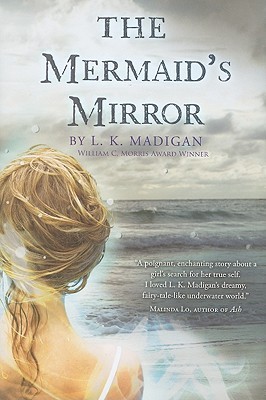 L. K. Madigan
Publication Date: October 4, 2010
Lena has lived her whole life near the beach - walking for miles up and down the shore and breathing the salty air, swimming in the cold water, and watching the surfers rule the waves - the problem is, she's spent her whole life just watching.

As her sixteenth birthday approaches, Lena vows she will no longer watch from the sand: she will learn to surf.

But her father - a former surfer himself - refuses to allow her to take lessons. After his near drowning years ago, he can't bear to let Lena take up the risky sport.

Yet something keeps drawing Lena to the water... an ancient, powerful magic. And one morning Lena catches sight of this magic: a beautiful woman - with a silvery tail.

Now nothing can stop Lena from seeking the mermaid, not even the dangerous waves at Magic Crescent Cove.

And soon... what she sees in the mermaid's mirror will change her life forever.
---
The story first introduces us to sixteen-year-old Lena who led a seemingly ordinary life with her events planner mother, former surfer dad and six-year-old brother Cole. We learn of her closeness with her family and wonderful relationship with her bestfriend Pem and bestfriend-turned-boyfriend Kai. We also learn of her desire to surf the waves of Diamond Bay, yet, even if her father was an excellent surfer, he would not let her. Not after he had that surfing accident years ago and he always look at the sea with trepidation and longing.
A longing which Lena shared.
She could not explain it. She loved the ocean so much that she spends her early morning walks at the beach always, always feeling like there was something missing. It was not only the fact that her real mother died long ago thus leaving her bereft of what it felt like to grow up with the one who gave her life but there was something, something she seemed to be always searching.
And then, the dreams started and she found herself waking up in the middle of the night at the beach without ever knowing how she got there. After a near-death experience involving a secret surf at Magic's and a key that was placed in her hand by the being that made her need to surf in that dangerous place in the first place - long-buried secrets, a fascinating world that half of her belonged to, true love and the search for her true identity was unleashed and Selena's life would never be the same again.
Reading the first few chapters, I though that it would be just another coming-of-age story that is similar to another book whose title misled me. This other book was Mermaid Park and I really thought it was a story about mermaids. There were mermaids there all right - mermaids in fish suits in an amusement park. So I was really, really wary of reading this. But then, the voices and a real, albeit in a fiction book, mermaid came into the picture and my wariness was washed away by the waves.
I loved how L. K. wrote the story in such a way that as Lena discovered more and more about everything we discover along with her. Although, I must admit that I figured it all out earlier on and couldn't help compare it with another "shedding-coat-mermaid-becomes-human" and "mermaid-found-pelt-returns-to-ocean-leaving-husband-and-child" story: Selkie Girl and other various Irish folktales dealing with seals and mermaids, not to mention Ayashi no Ceres of Japanese anime fare.
But, L.K. wove her story in such a way that even though if one is familiar with the story (like me) she instilled enough freshness that would keep you hooked till the end.
The end. Another thing entirely - I HATED IT! No offense and all since the writing was superb and the story is quite riveting but I am a "happily-ever-after" kind of girl and I wanted Lena to have the best of both worlds. If her father, stepmother and step-grandmother could keep the secret, why couldn't she? Okay, okay. The biggest tick in my hair is the fact that she had to leave her true love behind at her mother's underwater village and never ever contact him again. Ah! Nix! Why!?! Why!?! Why!?!
Still, I would recommend this book to every person I meet. But, I am crossing my fingers for a sequel so that Lena could be reunited with her love. Now, to find another read to help me cope with the pain of reading that ending.