Book Blitz: Sunbolt by Intisar Khanani {Guest Post}
by Intisar Khanani
There are some stories that write themselves, and other stories you write and write and write. Sunbolt was both for me.

I wrote the first chapter or so of Sunbolt as a short story that ended rather abruptly because I couldn't figure out what the ending actually was. I wasn't even sure what the story was about, so I gave it the working title of "Night Story" (since most of it took place at night) and left it at that. It sat quietly on my laptop for a long time, perhaps a couple years. Every now and then I would come back to it, scratch my head, make a few attempts to figure it out, and leave it alone again. Then, while traveling overseas to be with my in-laws during a family illness, the first three novellas of the Sunbolt Chronicles came pouring out of me.

Then I left Sunbolt alone again for nearly three years, while I polished up my debut novel to release and worked on other projects. When I came back to Sunbolt, I knew this was a project I wanted to publish and to complete (there should be about six novellas all told). So I started revising. The funny part? Not a single scene from the original beginning that I wrote and pondered over is left. Bit by bit, it got chipped away, re-visioned, and rewritten. But the story that it inspired still has me in its grip, and I'm looking forward to bringing you the rest of Hitomi's adventures…
Sunbolt
The Sunbolt Chronicles #1
Intisar Khanani
Publication Date: June 17, 2013
Genre: YA Fantasy
The winding streets and narrow alleys of Karolene hide many secrets, and Hitomi is one of them. Orphaned at a young age, Hitomi has learned to hide her magical aptitude and who her parents really were. Most of all, she must conceal her role in the Shadow League, an underground movement working to undermine the powerful and corrupt Arch Mage Wilhelm Blackflame.

When the League gets word that Blackflame intends to detain—and execute—a leading political family, Hitomi volunteers to help the family escape. But there are more secrets at play than Hitomi's, and much worse fates than execution. When Hitomi finds herself captured along with her charges, it will take everything she can summon to escape with her life.
A portion of the proceeds from the sale of Sunbolt will be donated to the United Nations Children's Fund. UNICEF fights for the survival and development of the world's most vulnerable children. Find out more at
http://www.unicefusa.org
.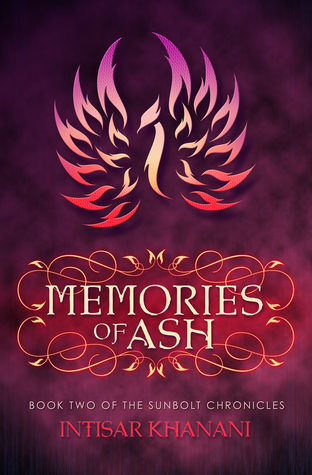 Sunbolt Chronicles #2
Intisar Khanani
Publication Date:

May 30, 2016
Genre: YA Fantasy
In the year since she cast her sunbolt, Hitomi has recovered only a handful of memories. But the truths of the past have a tendency to come calling, and an isolated mountain fastness can offer only so much shelter. When the High Council of Mages summons Brigit Stormwind to stand trial for treason, Hitomi knows her mentor won't return—not with Arch Mage Blackflame behind the charges.




Armed only with her magic and her wits, Hitomi vows to free her mentor from unjust imprisonment. She must traverse spell-cursed lands and barren deserts, facing powerful ancient enchantments and navigating bitter enmities, as she races to reach the High Council. There, she reunites with old friends, planning a rescue equal parts magic and trickery.




If she succeeds, Hitomi will be hunted the rest of her life. If she fails, she'll face the ultimate punishment: enslavement to the High Council, her magic slowly drained until she dies.
($0.99 Special)
About the Author
Intisar Khanani grew up a nomad and world traveler. Born in Wisconsin, she has lived in five different states as well as in Jeddah on the coast of the Red Sea. She first remembers seeing snow on a wintry street in Zurich, Switzerland, and vaguely recollects having breakfast with the orangutans at the Singapore Zoo when she was five. She currently resides in Cincinnati, Ohio, with her husband and two young daughters. Until recently, Intisar wrote grants and developed projects to address community health with the Cincinnati Health Department, which was as close as she could get to saving the world. Now she focuses her time on her two passions: raising her family and writing fantasy. Intisar's next two projects include a companion trilogy to Thorn, following the heroine introduced in her short story The Bone Knife, and The Sunbolt Chronicles, a novella serial following a young mage with a propensity to play hero, and her nemesis, a dark mage intent on taking over the Eleven Kingdoms.