Waiting on Wednesday is hosted by Jill over at Breaking the Spine
. This meme spotlights upcoming releases that I'm eagerly anticipating.
---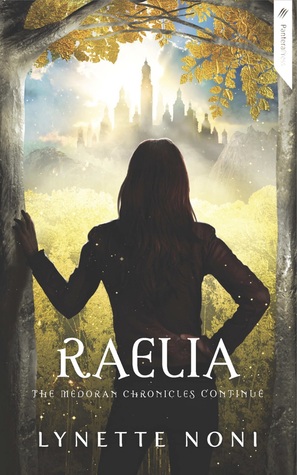 Raelia
The Medoran Chronicles #2
Lynette Noni
Expected Publication:

March 23, 2016
Genre: YA Fantasy
"Life is full of crossroads, Alex. Full of choices."




Returning for a second year at Akarnae Academy with her gifted friends, Alexandra Jennings steps back through a doorway into Medora, the fantasy world that is full of impossibilities.




Despite the magical wonder of Medora, Alex's life remains threatened by Aven Dalmarta, the banished prince from the Lost City of Meya who is out for her blood.




To protect the Medorans from Aven's quest to reclaim his birthright, Alex and her friends seek out the Meyarin city and what remains of its ancient race.




Not sure who—or perhaps what—she is anymore, all Alex knows is that if she fails to keep Aven from reaching Meya, the lives of countless Medorans will be in danger. Can she protect them, or will all be lost?
Akarnae Academy is what Hogwarts is when technology could be used there. That is one of the reasons why I enjoyed reading Akarnae last year.