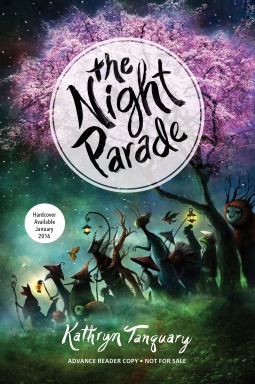 Kathryn Tanquary
Publication Date: January 5, 2016
Genre: MG Fantasy, Folklore
The last thing Saki Yamamoto wants to do for her summer vacation is trade in exciting Tokyo for the antiquated rituals and bad cell reception of her grandmother's village. Preparing for the Obon ceremony is boring. Then the local kids take an interest in Saki and she sees an opportunity for some fun, even if it means disrespecting her family's ancestral shrine on a malicious dare.

But as Saki rings the sacred bell, the darkness shifts. A death curse has been invoked... and Saki has three nights to undo it. With the help of three spirit guides and some unexpected friends, Saki must prove her worth - or say good-bye to the world of the living forever.
Review copy received from the publisher thru NetGalley
I want Studio Ghibli to adapt this book into a movie.
That said, I couldn't help but feel the Spirited Away vibes I was getting when I was reading this book. There was (1) Japanese folklore - the reason I picked up this book in the first place; (2) a girl who grew up in the city, separated from her friends, loathed to go to the countryside where the cellphone signal was sporadic; (3) messed with things she didn't understand and beyond her ken; and (4) went to a quest to undo what was done and learned valuable lessons along the way.
If that wasn't Studio Ghibli (SG) material, then I'd tell you how wrong you are.
Then again, the SG atmosphere,that timeless quality, was almost there but not quite. Or my wanting to see The Night Parade visually was what was influencing me in all this. However, The Night Parade certainly captured the whimsy, the perfect blend of the traditional, the fantastical and the modern setting - characters and storytelling alike.
Notes:
-I know it is unfair to compare The Night Parade and Spirited Away because they were written from different perspectives, but each had their charms.
-It was about a girl and her quest... but I'd like to think about this Midlight Prince, the charm Saki gave to him and the promise that he'll return it to her when she returns... Sequel!