Book Haul is a feature post which showcases some of the books that I got.
The Starriest Summer


Cycle of the Six Moons #1
Adelle Yeung
Genre: YA Fantasy
Fifteen-year-old Michelle saves the world on a daily basis…with her trusty video game controller, of course! Naturally, she jumps at the chance to play an experimental virtual reality game.

The beautiful fantasy world of Starrs? Check. The power to mold matter? Check. No reset button? Wait, she didn't sign up for this!

Turns out Starrs is really real, and to make matters worse, Michelle's interference awakens the Cycle of the Six Moons, a series of devastating trials that will devour the universe.

Fighting the apocalypse was way easier when danger stayed on the other side of the screen, but Michelle finds a secret weapon in her new-found powers. She uses them to rescue the crown prince of a powerful magic kingdom from their sworn enemies, a technologically-advanced cult that strives to eradicate magical blood.

Michelle starts to fall for Prince Jayse, the only one who believes Michelle to be a savior rather than a curse. But not even video games could prepare her for what the cult has in store for them…
Received this for a blog tour which will be on December, so definitely look out for that. I'll be doing a promo post during the tour and I will post a review separately. I can't wait to read this.

Freebies
You should be on the newsletter list of Amber Argyle. You really should.
Thank you, thank you to Kimberley Griffiths for Forbidden and being part of the YASI Facebook Party.
Another thank you to Tera Lynn Childs. I've been calling this book, Straight Talk, until I looked closely and it's Straight Stalk.
Swag from Terah Edun! Yush, another magnet for the fridge.
From NetGalley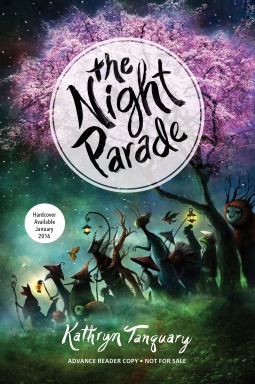 Okay. Charlie N. Holmberg's Paper Magician trilogy is one of my faves this year. She had this kind of storytelling that is subtle but meaty. Here's hoping I enjoy Followed by Frost.
Truth be told, I requested The Night Parade because it is set in Japan and features Obon (
お盆
), a Japanese festival held during the 15th day of the 7th lunar month to honor the spirit of one's ancestors.
From Edelweiss
For My Kindle

I really liked the first two books of the Golden Mage trilogy. The MC is overpowered but doesn't have any control with her powers. I like the world. Bit of a been-there-done-that story though. I have yet to read the last book, The Last Stone Cast. I've lost my momentum but would definitely read it soon.