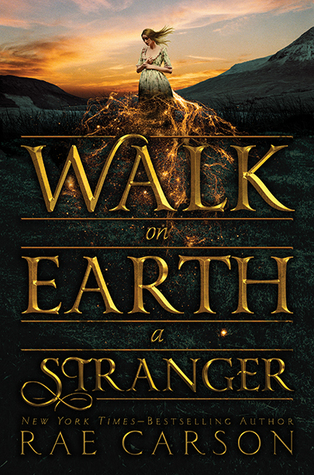 Walk on Earth a Stranger
Gold Seer #1
Rae Carson
Publication Date: September 22, 2015
Genre: YA Historical Fiction, Paranormal
Gold is in my blood, in my breath, even in the flecks in my eyes.




Lee Westfall has a strong, loving family. She has a home she loves and a loyal steed. She has a best friend—who might want to be something more.




She also has a secret.




Lee can sense gold in the world around her. Veins deep in the earth. Small nuggets in a stream. Even gold dust caught underneath a fingernail. She has kept her family safe and able to buy provisions, even through the harshest winters. But what would someone do to control a girl with that kind of power? A person might murder for it.




When everything Lee holds dear is ripped away, she flees west to California—where gold has just been discovered. Perhaps this will be the one place a magical girl can be herself. If she survives the journey.




The acclaimed Rae Carson begins a sweeping new trilogy set in Gold Rush-era America, about a young woman with a powerful and dangerous gift.
eARC provided by the publisher thru NetGalley
When I first heard of this book I immediately put in on my TBR list not so much for the story but for the author. I adored Rae Carson's Fire and Thorns trilogy (hounding anyone and everyone to read it) and I was happy to get my hands on another of her books: A girl hunting on her own because her invalid father couldn't, a family struggling to make ends meet even though they had a pile of gold dust underneath the floorboards and all of them keeping a secret - the girl could divine gold.
It wasn't love at first sight or, in this case, the first 10% or so of the book. It was a slow start and I got bored fast. If I don't pause here, I thought, I would hate it later. I should get my head out of the book for a while. A while proved to be weeks later before I was drawn back to the book again. This time, I had my head screwed on straight (I was in a reading slump XD) and prepared myself for a ride across Gold-Rush era America.
Let me say this first: I know little of the history of the USA. I read bits and pieces of it (translation: Wikipedia chain-reading which I would be doing later, reading about the Oregon Trail, the gold rush, etc.), more if it intersects with the history of my own country. The thing is, school books and most history articles and journals tell of the events that happened in this era factually. It isn't a bad thing really, but they tend to be a little bit dry and boring.
Enriching characters?
Leah is one tough cookie. She is smart and strong and does what needs to be done. But don't assume that she is a stone-cold character, she definitely have emotions. Her show of feelings is written in a way that makes you empathize with her and not be annoyed with her (unlike some characters in books I have been unfortunate to read). It is rare to find a character so balanced.
Yet Leah is not the only driving force of this story. The supporting characters are developed and complex whose presence builds the already wonderful setting of the tale. I definitely want to know more about them in the next book.
Plot? What Plot?
I confess one of the things I was bored with this book at first, is I couldn't pinpoint the exact plot, where this book is going. Will it only be the development of her ability to find gold? Will it be to escape from or to exact revenge on her Uncle Hiram? Will it be the crossing from Georgia to California and all her encounters during said crossing?
*shrugs*
It's all about the journey. The story behind the history.
I should have been prepared for how the story will unfold because I've read The Girl of Fire and Thorns. The lesson here is not to focus on just one thing.
First of all, the romance is minimal. Don't even dwell on it. Although, I am not really keen on Jefferson and just want him to stay best friends with Leah. Sorry Jefferson fans.
Second thing, everything is intertwined. In Fire and Thorns, Elisa's mission was to find the purpose for bearing the godstone. She thought, as godstone bearer, it was to be THE queen and to topple Invierno. In the end, that was not her purpose as godstone-bearer but hey! she became empress of an empire along the way.
And that is what Walk on Earth a Stranger is about. There is no 'one thing'. It is everything. But what I like most about this book is that it tells of the people, of their struggles and difficulties, their wants, needs and desires, and their incredible journey in Gold-Rush America. It is a fictionalized version but it let me take a peek behind the main events and dates. It gives you a sense of being there.
Not gonna give you up.
Despite the slow start and some boring parts, I am eager to find out what awaits Leah and her friends now that they have arrived in California.