Not many seventeen year old girls have a best friend who's a ghost, but then Mary Hades isn't your average teenager.




Scarred physically and mentally from a fire, her parents decide a holiday to an idyllic village in North Yorkshire will help her recover. Nestled in the middle of five moors, Mary expects to have a boring week stuck in a caravan with her parents. Little does she know, evil lurks in the campsite…




Seth Lockwood—a local fairground worker with a dark secret—might be the key to uncovering the murky history that has blighted Nettleby. But Mary is drawn to him in a way that has her questioning her judgement.




Helped by her dead best friend and a quirky gay Goth couple, Mary must stop the unusual deaths occurring in Nettleby. But can she prevent her heart from being broken?




The first in a series of dark YA novels, Mary Hades follows on from the bestselling Kindle Single 'My Daylight Monsters'. A spine-tingling tale with romance, readers will be shocked and entertained in equal measure.
I did not finish reading Mary Hades the first time I opened the book. I thought it would go to the DNF pile but, instead, it went to the read later stack. I read the last part, you see, and I saw that the MC did not end up with the guy. I know, it seemed like a shallow reason but I was in a romance kick at that time and I wanted an HEA.
But I decided to give the book another chance and I'm glad I did because it reminded me that not everything is about romance. Well, not almost everything.
Mary Hades was not as scary as I wanted it to be. Someone was haunting and committing murders, someone was being haunted, someone was broken and only one had the key to ending it all. Yes, they're familiar tropes. But then, Mary Hades's focus was not so much on horror but the intricacies behind that horror. Things that were more horrible than the haunting.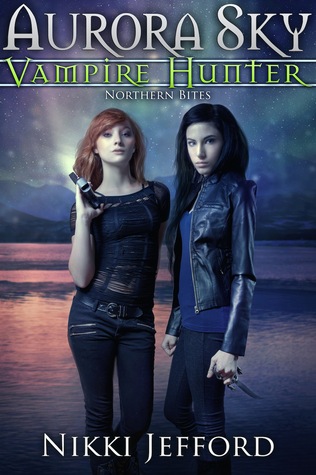 Aurora Sky: Vampire Hunter #2
Love bites.

Probation sucks.




Thanks to Dante's recklessness, Aurora is now partners with Valerie: the redheaded, backstabbing vixen.




Dante is in full flirt mode. Fane's tactics are more ruthless. Something carnal has awakened in Aurora and neither boy is helping tame her cravings.




When a member of the unit's team is found dead, Aurora and Valerie are sent after a vampire in Sitka, but Aurora suspects the killer's much closer to home.
I thought that with the trajectory that the first book had that Northern Bites would be just as fast-paced, as page-turning and as exciting.
But, no. Although, Northern Bites was just as badass as the first book, full of action and conspiracies, it was slow-paced, with the narrative hardly pushing the plot forward. It felt more like a filler than a full-fledged novel.