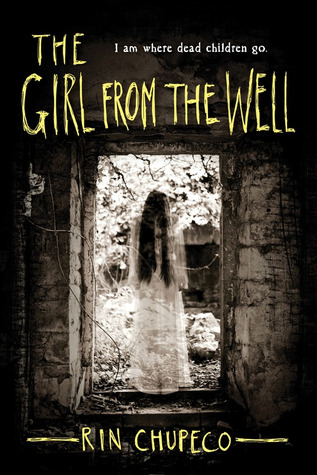 The Girl from the Well #1
Rin Chupeco
Genre: YA Horror (like, really)
You may think me biased, being murdered myself. But my state of being has nothing to do with the curiosity toward my own species, if we can be called such. We do not go gentle, as your poet encourages, into that good night.

A dead girl walks the streets.

She hunts murderers. Child killers, much like the man who threw her body down a well three hundred years ago.

And when a strange boy bearing stranger tattoos moves into the neighborhood so, she discovers, does something else. And soon both will be drawn into the world of eerie doll rituals and dark Shinto exorcisms that will take them from American suburbia to the remote valleys and shrines of Aomori, Japan.

Because the boy has a terrifying secret - one that would just kill to get out.
Review copy provided by NetGalley and Sourcebooks Fire
Checks the amount of salt available in the house.

Notes to go to the grocery to procure some sage.
Researches about sweetgrass.

Scours the 'net about rituals.
I am going to be ready as I can be and with me being woken up between the witching hours of two and three early this morning (or middle of the night) by a loud crash of thunder coupled by a lightning show, I am not taking any chances.
I have encountered Okiku before (excluding Ringu when I read Japanese folk tales as a an Asian Studies major with a focus in Japan. And while I likedd reading about her, I won't be as welcoming as Tarquin even if she was as benevolent as they come thus the preparation of salt and sage. XD
That was proper horror. Spine-chilling, fear-inducing horror that titillated my fondness for such stories and made me afraid enough to have a nightlight, after so many years of not having any, tonight.
That was also the right way to treat another country's cultural elements - staying true to the mythology while adding one's unique take on a tried and tested lady in white.
Notes:
Obon is celebrated in August and not in October.
The northernmost I've ever been to Japan was Hachimantai and Appi Kogen in Iwate Prefecture. Gorgeous mountains, great food and it was just so beautiful.

I've once participated in a cleansing ritual at a shrine in Minami Sanriku.