...or Kendare Blake's five favorite guy characters from her books.
In no particular order (I REPEAT, IN NO PARTICULAR ORDER)
1.
Cas Lowood
, the traveling ghost hunter from
Anna Dressed in Blood
. I love and miss Cas, and his sarcastic defense mechanisms, his love of Saskatoon jam. His unabashed love for his mom, and secret love for her cat.
2.
Odysseus
, the reincarnated Greek hero from the
Goddess War
trilogy. Me-ow, I miss Odysseus. He was probably the only one of my characters I can refer to as hot without hesitation. That accent. That rakish grin.
3.
Billy Chatworth
, Arsinoe's suitor from the
Three Dark Crowns
series. Ah, Billy. He started out as a foil for the matriarchy, a guy who could serve as a patriarchal counterpoint. Instead he turned into the best suitor EVER and a fine rescuer of chickens.
4.
Thomas Sabin
, witch extraordinaire from
Anna Dressed in Blood
. Shy, sweet Thomas, who is actually as strong as a thunderstorm. He might have listened to too much Staind after his breakup with Carmel, but he's absolutely the best friend a ghost hunter could ask for.
5.
Pietyr Renard
(or Pietyr Arron if you want to stay on his good side), a poisoner from the
Three Dark Crowns
series. Pietyr hides his heart of gold behind, well, a heart full of poison, I guess. He has his ambitions, but he adores his queen. And he's so catty sometimes he makes me laugh.
#1 New York Times bestselling author Kendare Blake returns with the highly anticipated third book in the Three Dark Crowns series!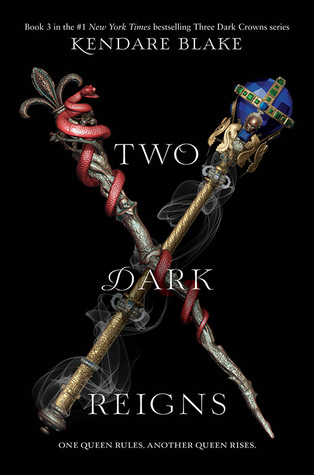 Two

Dark

Reigns
Three Dark Crowns #3
Kendare Blake
Publication Date:

September 4, 2018
Genre: YA Fantasy
Katharine sits on the throne, Mirabella and Arsinoe are in hiding, and an unexpected renegade is about to wage a war of her own. The crown has been won, but these queens are far from done.
About the Author
Kendare Blake is the author of several novels and short stories, most of which you can find information about via the links above. Her work is sort of dark, always violent, and features passages describing food from when she writes while hungry. She was born in July (for those of you doing book reports) in Seoul, South Korea, but doesn't speak a lick of Korean, as she was packed off at a very early age to her adoptive parents in the United States. That might be just an excuse, though, as she is pretty bad at learning foreign languages. She enjoys the work of Milan Kundera, Caitlin R Kiernan, Bret Easton Ellis, Richard Linklater, and the late, great Michael Jackson, I mean, come on, he gave us Thriller.
She lives and writes in Kent, Washington, with her husband, their cat son Tyrion Cattister, red Doberman dog son Obi-Dog Kenobi, rottie mix dog daughter Agent Scully, and naked sphynx cat son Armpit McGee.
a Rafflecopter giveaway