As part of the launch for my new fairy tale shifter novel, WOLVES AND ROSES, the lovely folks at the Whatever You Can Still Betray blog have asked me to write about the art of retelling and twisting fairy tales. Can't wait to share!
It's All About the Sisters Grimm
To start with, I must say that I LOVE LOVE LOVE that this topic is about 'retelling fairy tales,' because that's what I've tried to accomplish with WOLVES AND ROSES. As a child, I was obsessed with the original Grimm's Brothers fairy tales. To be clear: these stories may have been written down by the brothers Grimm but they were actually told by women. And these tales weren't something a random grandma made up the week before, either. No, these were stories that had been retold in various fashions for perhaps hundreds of years. With WOLVES AND ROSES, I tried to rewind the fairy tale clock back to the beginning and those original stories.
With that in mind, here is the key lesson that I gained from the Sisters Grimm…
You want something, you work for it
In the original Grimm's fairy tales, folks are constantly having to do crazy-long tasks like empty out a lake with a thimble or live for ages as a frog. In the case of the original Cinderella (what was first called Ash Maiden), our heroine needed to grieve her lost mother far more than she had to worry about extra chores. As part of her grief work, Ash Maiden cried over a sapling every day FOR YEARS. Eventually, her tears turned that wisp of a plant into a mighty oak, and it was from that tree that Ash Maiden received a dress and shoes for the ball. After being parted from the Prince, the oak even sent a bird to lead him back to his true love. Overall, I think the original Grimm's stories are about how it's important to be a patient and active participant in your own life.
This isn't to say that the 'didn't do anything but here's some magic' version of the fairy tale isn't valid for girls. When you first become a sexual being, girls get a lot of attention for doing nothing but growing up. It's really valid to have stories about how to deal with those overwhelming feelings. But for me, that story territory wasn't calling to me the way that the original Ash Maiden did.
With that in mind, here's how I tried to translate the Ash Maiden vibe into WOLVES AND ROSES. The heroine of Bryar Rose has lived a lifetime under a sleeping curse. All those years, she's been trying to find a way around it. Plus, she has a plan for exactly what she'll do and where she'll go once she's free. By the time we meet her, Bry has watered her oak with tears and is now ready to reap the rewards.
I hope you find the WOLVES AND ROSES story arc as compelling as I found the original stories from the Grimm's Brothers and Sisters. Sadly, there's no way for me to text y'all after you've finished and talk. What did you like? What would you change? Where should the story go? So please please please, drop me a note or write a review of WOLVES AND ROSES. I can't wait to hear from you!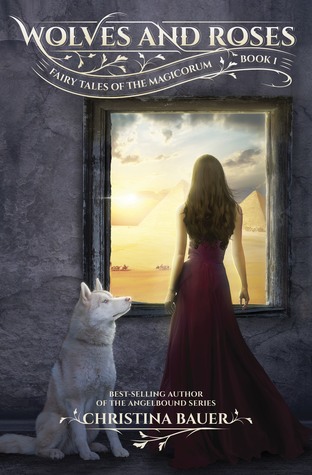 Fairy Tales of the Magicorum #1
Christina Bauer
Published by: Monster House Books
Publication Date:
October 31, 2017
Genres: YA Paranormal
"If Janet Evanovich teamed with a young adult, fairy-tale author like Marissa Meyer (the Lunar Chronicles) or Alex Flinn (Beastly), the result might be something like Christina Bauer's Wolves and Roses." –Blue Ink Review

Seventeen-year-old Bryar Rose has a problem. She's descended from one of the three magical races—shifters, fairies, or witches. That makes her one of the Magicorum, and Magicorum always follow a fairy tale life template. In Bryar's case, that template should be Sleeping Beauty.

"Should" being the key word.

Trouble is, Bryar is nowhere near the sleeping beauty life template. Not even close. She doesn't like birds or woodland creatures. She can't sing. And she certainly can't stand Prince Philpot, the so-called "His Highness of Hedge Funds" that her aunties want her to marry. Even worse, Bryar's having recurring dreams of a bad boy hottie and is obsessed with finding papyri from ancient Egypt. What's up with that?

All Bryar wants is to attend a regular high school with normal humans and forget all about shifters, fairies, witches, and the curse that Colonel Mallory the Magnificent placed on her. And she might be able to do just that--if only she can just keep her head down until her eighteenth birthday when the spell that's ruined her life goes buh-bye.

But that plan gets turned upside down when Bryar Rose meets Knox, the bad boy who's literally from her dreams. Knox is a powerful werewolf, and his presence in her life changes everything, and not just because he makes her knees turn into Jell-O. If Bryar can't figure out who—or what—she really is, it might cost both her and Knox their lives... as well as jeopardize the very nature of magic itself.

FAIRY TALES OF THE MAGICORUM
1. Wolves And Roses (Fall 2017)
1.5. Moonlight And Midtown (Spring 2018)
2. Shifters And Glyphs (Fall 2018)
About the Author
Christina Bauer knows how to tell stories about kick-ass women. In her best selling Angelbound series, the heroine is a part-demon girl who loves to fight in Purgatory's Arena and falls in love with a part-angel prince. This young adult best seller has driven more than 500,000 ebook downloads and 9,000 reviews on Goodreads and retailers. It is now available as an audiobook on Audible and
iTunes
.
Bauer has also told the story of the Women's March on Washington by leading PR efforts for the Massachusetts Chapter. Her pre-event press release—the only one sent out on a major wire service—resulted in more than 19,000 global impressions and redistribution by over 350 different media entities including the Associated Press.
Christina graduated from Syracuse University's Newhouse School with BA's in English along with Television, Radio, and Film Production. She lives in Newton, MA with her husband, son, and semi-insane golden retriever, Ruby.
Stalk Christina on Social Media – She Loves It!
Website | Blog | Twitter | Facebook | Instagram | Linkedin
INTERNATIONAL
Win The Wolves and Roses Treasure Box
Bry's Earrings
Rose Hair Clip
Signed Copy Of Wolves and Roses
a Rafflecopter giveaway