Random Reviews (3): Middling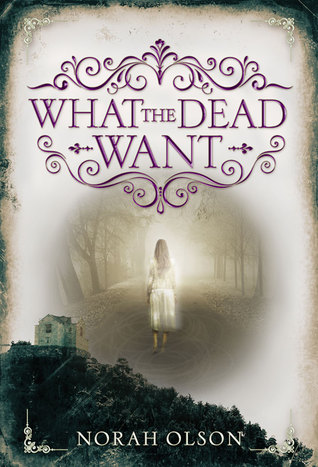 What the Dead Want
Norah Olson
Genre: YA Horror

(supposed to be)
16 -year-old Gretchen takes photographs to understand the world around her, a passion her mother Mona fostered and encouraged when she was still around. Since her mom disappeared years ago, Gretchen and her dad have lived on their own in New York City, haunted by Mona's absence.

When Gretchen's great aunt Esther calls unexpectedly to tell her that she has inherited the pre-Civil War mansion on her mother's side of the family in upstate New York, Gretchen understands nothing except that her aunt needs her help. But what she finds there is beyond her imagination. The house is crumbling apart, filled with stacks of papers and journals from decades, even centuries past, and it's crawling with rodents. It's also full of secrets and a legacy of racism and violence so reprehensible that the ghosts of the past are exacting revenge on the living.

Somehow the mystery of Mona's disappearance and the atrocities that happened on the land during the Civil War are inextricably intertwined, and it's up to Gretchen to figure out how…before even more lives are lost.
Review copy provided thru Edelweiss
When you're exposed to it since childhood, then there's no rhyme or reason why you won't accept it immediately. I would have gone to the nearest house, use their phone to call my aunt and a car service and a demolition crew, no matter how crazy my great-aunt was insisting me to stay. And I would have destroyed the mirror pronto the minute I saw it.
The story would have been a good, if not great, ghost story but it was undermined by characters that just didn't have a spark. She didn't engage me and dare I say was not very effective in making me feel that spine-tingling, nail-biting thrill that I expect from reading or watching horror stories.
The Season Avatars #2
Sandra Ulbrich Almazan
Genre: YA Fantasy
Lady Gwendolyn lo Havil is an Ava Spring, born to heal others and lead the Avatars of her generation. When the current Ava Spring dies in a riding accident, Gwen must find the other three Avatars she will link with. Only a full quartet of Avatars can deal with the destruction of Chaos Season, times when the seasons all appear at once. But two Avatars are missing, and with Gwen's own magic is crippled by an ancient, cursed pottery shard, Gwen will have to use all of her skills to find the Avatars. Can she trust the stranger who claims to know the shard's origin, or is he her ancient foe returned?
Review copy provided thru NetGalley
I haven't read the first book yet when I requested this on NetGalley therefore I don't have any story background when I went into Scattered Seasons.
But Scattered Seasons proved interesting even I didn't have prior knowledge of its world mythology; the narrative was pretty clear and concise about it.
But I just couldn't stand Aunt Gabri! Couldn't you just have made her stay at One Oak? Her information about the next Ava Fall wasn't even needed until at the very end.