ARC Review: Into the Dim by Janet B. Taylor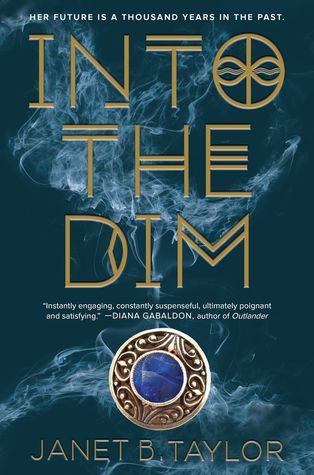 Into the Dim #1
Janet B. Taylor
Expected Publication:

March 1, 2016
Genre: YA Time Travel
When fragile, sixteen-year-old Hope Walton loses her mom to an earthquake overseas, her secluded world crumbles. Agreeing to spend the summer in Scotland, Hope discovers that her mother was more than a brilliant academic, but also a member of a secret society of time travelers. Trapped in the twelfth century in the age of Eleanor of Aquitaine, Hope has seventy-two hours to rescue her mother and get back to their own time. Along the way, her path collides with that of a mysterious boy who could be vital to her mission . . . or the key to Hope's undoing. Addictive, romantic, and rich with historical detail, Into the Dim is an Outlander for teens.
Review copy provided by publisher thru Edelweiss
I worried that I was reading a run-of-the-mill-Ruby-Red-like-time-travel story when I was reading Hope's introduction to the world of time travelers. I shouldn't have worried.
Gripping action and danger, consequences left and right, lives on the line, mistakes and bittersweet moments, that is what I found inside this book.
Hope was not a special little snowflake that would be granted a deus ex machina in the end. No, her eidetic memory did not count. She was fragile, she was not fearless, she was not trained in any martial art... She was just her and I liked her for it.
Unlike Gideon of the Ruby Red trilogy, who I thought was a complete fruitcake, Bran was... he was complicated. I won't tell anything because everything about him tied with the main plot.
I know it said THE END on the last page but I really want this book a sequel. Eventhough they achieved what they needed to do in the past, there are still some loose ends to tie up.