Welcome to the Bloodcraft Blog Tour!
Check out the second book in the Bloodspell series by Amalie Howard, read an excerpt and enter the giveaway!
Bloodcraft
Bloodspell #2
Amalie Howard
Publication Date:
December 15, 2015
Genre: Upper YA/NA (mature content), Fantasy
All magic has its price, and no one knows that better than Victoria Warrick. Gifted with a centuries-old blood curse, Tori has finally learned to master her blood's demands and has emerged triumphant with Christian Devereux, a vampire overlord, at her side.




But the worst is yet to come …




In the infamous City of Lights, home to both the Witch Clans and the Vampire Council, Tori enrolls at the exclusive Belles Fontaines school in Paris, where she is faced with a devastating choice: choose Christian and be an outcast, or choose the coven and secure her place with the witches.




When the fate of the supernatural world is targeted by a sinister new threat, Christian and Victoria must unite their two warring species to defeat it. Their bond will be tested, twisted, and sorely weakened, and Tori will find herself in uncharted territory—a dangerous place to be when her blood's magic has its own dark agenda.




But to save them all, she may have no choice but to invoke its deadly power.
Her blood was singing, the heat spiraling under her skin as Christian pressed forward, his teeth grazing her flushed skin. Despite herself and the vague warning at the back of her head, she arched backward, feeling her pulse humming beneath his lips, louder and louder as if inviting him in—daring him to do what he was made to do—consume her blood.
All her desires coalesced into a single, insistent command.
The only thing that drew them out of their manic, seductive haze was Leto's crazed hissing and the vicious swipe of his paw against Christian's leg. Christian jerked out of her embrace with a harsh curse, and Victoria blinked with wide, dazed eyes, confused by his sudden withdrawal. Her gaze slid to Leto, who stood by, fury vibrating in waves off of him.
That was too close. His mental voice was a shriek. What were you thinking?
Staring at them both, Christian stumbled backward, his lips stained crimson, to collapse on the foyer staircase. Victoria's heart stopped.
"Oh my god, is that—" she whispered, terrified. "My blood?"

"No, it's mine," he said shakily, tasting the blood on his lips. "I think."
Check out the first book in the Bloodspell series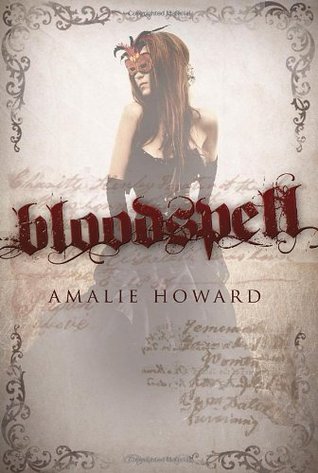 About the Author
AMALIE HOWARD grew up on a small Caribbean island (Trinidad & Tobago) where she spent most of her childhood with her nose buried in a book or running around barefoot, shimmying up mango trees and dreaming of adventure. 25 countries, surfing with sharks and several tattoos later, she has traded in bungee jumping in China for writing the adventures she imagines instead. She isn't entirely convinced which takes more guts.
An aspiring writer from a young age, Amalie's poem "The Candle," written at age twelve, was published in a University of Warwick journal. At fifteen, she was a recipient of a Royal Commonwealth Society Essay Award (a global youth writing competition). A Colby College graduate, she completed simultaneous Honors Theses in both French and International Studies, and graduated Summa Cum Laude/Phi Beta Kappa. At Colby, she was cited for research and criticism in Raffael Scheck's article, "German Conservatism and Female Political Activism in the Early Weimar Republic," and his subsequent book, Mothers of the Nation. She also received a distinction in English Literature from the University of Cambridge (A-levels) as well as a certificate in French Literature from the Ecole Normale Supérieure in Paris, France. Traveling the globe, she has worked as a research assistant, marketing representative, teen speaker and global sales executive.
agold-authorShe is the author of several young adult novels critically acclaimed by Kirkus, Publishers Weekly, VOYA, and Booklist, including Waterfell, The Almost Girl, and Alpha Goddess, a Spring 2014 Kid's INDIE NEXT title. Her debut novel, Bloodspell, was a #1 Amazon bestseller and a Seventeen Magazine Summer Read. As an author of color and a proud supporter of diversity in fiction, her articles on multicultural fiction have appeared in The Portland Book Review and on the popular Diversity in YA blog. She currently resides in Colorado with her husband and three children. She is represented by the Liza Royce Agency and is a member of SCBWI.
Kindle Fire giveaway is open to US residents due to shipping restrictions.
Paperback copies of BLOODSPELL & BLOODCRAFT are open to US and INT readers.
This giveaway is sponsored by Amalie Howard.
Leading up to the release of BLOODCRAFT, more entries/options will be added to the rafflecopter to double your chances!