Finding Gold #1
Konstanz Silverbow
Genre: YA Fantasy
One princess destroyed the world. One princess must save it.




When she was little she wished to be a princess. Now as a teenager she just wishes she fit in. But Shanice doesn't feel like she belongs, she never has.




When her parents tell her she is the last known princess from another world, it all makes sense. A world full of magic in place of technology. One where she is more than just royalty, she is their last chance to stop the one who is bent on destroying it. Mendina.




But she can't do it alone, first she must find the other missing royals. In her quest, Shanice will be forced to choose between the course prophecy set for her, and the one that leads to the man her heart belongs to.
I have no words.
Nothing new.
Except the MC asking the right questions like "Why do you need a young girl, who grew up in another world with no idea whatsoever of anything in your world, to save you? Can't you gather the missing royals yourselves on a secret mission? What have you been doing for 17 years and all a boy had to do was have someone distract the bitch and he proceeded to stab her? "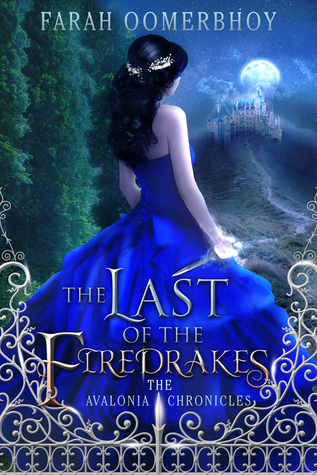 The Last of the Firedrakes
The Avalonia Chronicles #1
Farah Oomerbhoy
Genre: YA Fantasy
16-year-old Aurora Darlington is an orphan. Mistreated by her adopted family and bullied at school, she dreams of running away and being free. But when she is kidnapped and dragged through a portal into a magical world, suddenly her old life doesn't seem so bad.




Avalonia is a dangerous land ruled by powerful mages and a cruel, selfish queen who will do anything to control all seven kingdoms—including killing anyone who stands in her way. Thrust headlong into this new, magical world, Aurora's arrival sets plans in motion that threaten to destroy all she holds dear.




With the help of a young fae, a magical pegasus, and a handsome mage, Aurora journeys across Avalonia to learn the truth about her past and unleash the power within herself. Kingdoms collide as a complicated web of political intrigue and ancient magic lead Aurora to unravel a shocking secret that will change her life forever.
I would love to like this book. It had all the elements I wanted – another world, adventure, a prince in disguise, little girl lost.
BUT I've seen and read all these before. The Last of the Firedrakes didn't bring anything new to the table.
And while Rafe was as swoonworthy as a pile of chocolate, he could not make up for what a drag the main character was. I don't know how many times I've slapped my forehead when Aurora did and think something without a lick of common sense. Okay, not really common sense but I really didn't like her. Add to the fact that she was overpowered, you know, one of those with special snowflake symbols.
*sigh* This series has potential but I can't get over the cliches and overly familiar elements.
The map was wonderful though.