2014 Wrap-Up: Best Books/Series I've Read
TOP 15 BOOKS/SERIES I'VE READ IN 2014
1. The Immortal Descendants by April White
Possibly my favorite this year. The Immortal Descendants was an accidental find - something I read in another's blog. It took me weeks before finally buying Marking Time. I loved it so much! Good thing Tempting Fate was, at that time, only a few days from being released. Now the third book, Changing Nature will be out in January 2015.
2. The Collectors' Society by Heather Lyons
Dear Alice, because you already have Finn, I am going to have the White King for myself.
3. The Help by Kathryn Stockett
I watched the movie first. I had no choice because HBO was practically showing it everyday. I didn't think I would like it because it wasn't really what I usually go for. But it ended up a favorite and I didn't mind watching it everyday. When I finally read the book, I imagined the different POVs being read in the voice of the actresses who portrayed them. I need to get my hands on the audiobook. Octavia Spencer's the narrator.
4. A Discovery of Witches by Deborah Harkness
How do you express the feelings you have once you finished a magnificent book? How do you measure the depth of story and character development that spanned this book? How do you convey the satisfaction with how the romance once handled? How do you demonstrate your excitement to read the next book?
By doing a lot, and potentially embarrassing, fangirling.
5. The Perilous Sea by Sherry Thomas
I always dread sequels because, you know, the second-book-of-the-series sickness? That thing where it just dips...
But not so The Perilous Sea. Thomas's treatment ensured that I never got bored while maintaining what I loved about the first book.
6. Sunbolt by Intisar Khanani
Wow. Just wow. I can't believe someone could pack as much high fantasy goodness into a book whose length can be categorized as novella-sized. But someone did and that someone is Intisar Khanani. Show, not tell, was at play here and the descriptions and peeks into the culture and locations that makes Sunbolt tick made me feel I was there. I would normally be frustrated for it being short and I would normally say that That's it? but Sunbolt was just awesome and I was content.
7. The Forever Song by Julie Kagawa
Julie Kagawa did it again! Sarren and Jackal PWNED this book!
8. Grimoire Saga by S.M. Boyce
I didn't expect to like Lichgates. It has been with me for so long that I didn't remember I had it. But I had and I read it out of - well, not out of curiosity but it caught my attention that day and actually added it to my book queue for the week.
The power play, the politics, the betrayal!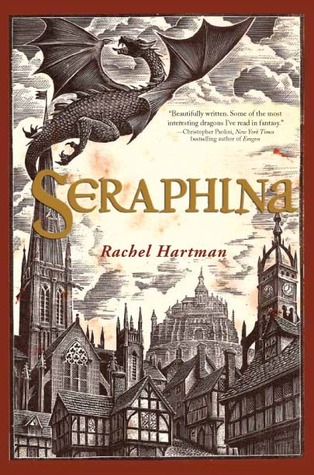 9. Seraphina by Rachel Hartman
Seraphina is one of those books that best embodies the fundamental rule when telling a fantasy: show, don't tell.
The world building is fantastic, detailed and rich. Rachel Hartman's story-telling lets me immerse myself in Seraphina's world with the ease of an artist painting the landscape of his dreams.


10. The Falconer by Elizabeth May
THE SEQUEL, GIVE IT TO ME!!!
11. Shatter Me by Tahereh Mafi
I never thought I could like Shatter Me. I avoided it like the plague; partly because it was causing a mania among the blogging community and because I was like What the hell is this? But, apparently, I was wrong. I really liked it in spite of the weirdness in the first half, you know, the writing. I could probably say that there was something unique about this story.
There was. However, I couldn't help but thought about XMEN. If anybody asks, my powers would be telekinesis and teleportation.
12. Forest of Whispers by Jennifer Murgia
It was sublime, surreal and timeless feel to the storytelling. These traits are what set apart Forest of Whispers, removed from the usual bustle of young adult fantasy and placed on a separate unique place.
14. The Darkest Minds by Alexandra Bracken
That was perhaps one of the most beautiful and the saddest endings I have ever read, especially the part where Liam was telling the "amazing story of us". I could have cried then. It was utterly, utterly perfect. And then, Ruby's decision. I asked myself if I'd be as brave as she was or would I be selfish.
15. Winterspell by Claire Legrand
My first question after reading the last word was: Will there be a sequel? Or perhaps a glimpse of what happened after Clara stepped through?
I was not so sure about this even after gushing about my excitement in a WoW post. I mean, it's a fairy tale retelling of some sort and though I adore them (the fairy tale retellings, that is), there is always a doubt in some part of my mind: Would it tear apart the original or would it go beyond and shine?
Thank goodness it was the latter for Winterspell. I should say that this was not a merely a retelling but a wholly new, wonderful, awesome story.
Honorable Mentions
I must say this was a great reading year! And 2015 has good books and anticipated sequels coming out!